Eric Cordingley and David Anderson continuing their search for death certificates and burial sites. Here is Eric's most recent report.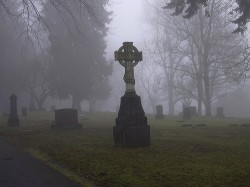 I now have a complete copy of all of the original ledgers of Multnomah Park Cemetery.  The reason this is important is because I can now trace all of the interments of Morningside patients who died between 1912 and 1942 to a time and place.
A recent fact emerged that several Morningside patients who died between 1904 and 1912 may have been interred in St. Mary's Cemetery, which was moved in 1937 to make way for Central Catholic High School.  The records of the whereabout of those remains is unknown, possibly to a mass grave at Lone Fir, or they still may in their original location, which is now under a tennis court and football field.
Dave and I are continuing on our monthly trek to Salem to get death certificates.  We have 1916, 1917, 1918 and 1919, the next set will be 1920 because I want to see when the burial contract went from Finley to Holman and just when the burials moved from Multnomah Park to Riverview…and then back again in 1927 to 1942.

The mystery of the interments of James Ebeno, Archie Brown, Charlie Waters, Serge Samsonal and Robert Read,. all of whom died in early 1942 endures.  The Multnomah Cemetery books gives their burial places in locations that were already full or nonexistent…therein lies the mystery.  It is highly likely these men were all interred at Greenwood Hills in their then-newly opened Sections 7 and 8, but the Greenwood Hills books are, unfortunately, not much help with this as their record keeping at the time left much to be desired.  I yet have to gain permission to see the records of Holman and Lutz which are kept at Caldwells Mortuary here in Portland.
Dave and I went to Rose City Cemetery last weekend in search of Mae Cox, who died in 1936.  Her burial location is known, but unmarked.