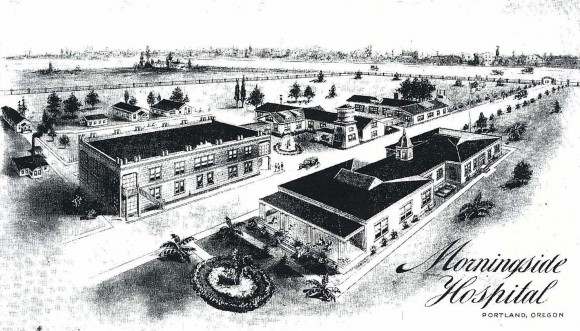 Prior to statehood, there were no services available in the Territory of Alaska for individuals who experienced mental illness or developmental disabilities. At the time, mental illness was considered a crime. Alaskan adults and children were arrested, convicted of being insane, and sent by the federal government to live at Morningside Hospital in Portland, Oregon. They were taken from their families and communities by dog sled, train and boat. In the end, at least 3,500 Alaskans were sent to Morningside between 1904 and the 1960s, when Morningside was finally closed. Many were never heard from by their families again. These are the Lost Alaskans.
More about Morningside Hospital from the blog
About Morningside Hospital
From "The East Portland Historical Overview and Historic Preservation Study" published by the City of Portland Bureau of Planning and Sustainability (March 2009)
"For nearly sixty years, Morningside Hospital sat on a 47-acre parcel in Hazlewood, at the junction of SE Stark Street and 96th Avenue. Formerly agricultural land, the site was developed as a psychiatric hospital complex and working farm in 1910. After WWII, many of the farmers in the surrounding area retired and their land was developed into suburban communities. The rising population increased consumer demand and the under-construction interstate freeway promised easy access; in 1970 the site was redeveloped as Mall 205.
The hospital, founded in 1899 by Dr. Henry Waldo Coe, was originally run out of his family's home. In 1905, Coe purchased the Massachusetts Building from the Lewis and Clark Exposition and moved it from the exposition site in NW Portland to Mt. Tabor, where it was converted into a psychiatric hospital. Five years later, Dr. Coe moved operations to what would be its final location, a 47 acre site in East Portland bounded by SE 96th and 102nd avenues, and Stark and Main streets. During its early years, the hospital went by several names including Dr. Coe's Nervous Sanitarium, Mindease, Mt. Tabor Sanitarium and Crystal Springs Sanitarium.
In 1904, Morningside was awarded a contract from the U.S. Department of the Interior to care for mentally ill and mentally handicapped patients from the territory of Alaska, who would constitute the bulk of the hospital's patients throughout its tenure. Between 1905 and 1968, nearly 5,000 patients were admitted to Morningside, not including the roughly 40 admitted monthly on behalf of Multnomah County, which used the hospital for emergency care.
After Dr. Henry Waldo Coe's death in 1927, Morningside was taken over by his son, Wayne Coe. Although not a medical doctor, Wayne Coe acted as hospital administrator and eventually as Chairman of the Henry Waldo Coe Foundation.
In 1955, Morningside came under attack after a bill was introduced by U.S. Rep. Edith Green (D) of Oregon, to transfer care of Alaskan patients to Alaska. Questions of financial impropriety raised during hearings lead to an investigation of the hospital by the U.S. General Accounting Office in 1956. By this time, Wayne Coe's son Henry Coe, had entered the family business. The Coes were accused of using hospital funds for personal expenses, including trips to South Africa and Mexico, a beach property in Gearhart and a ranch in Stanfield, Oregon. The Coes were also accused of "outrageous abuse of privilege" including the use of patient labor for home and hospital building and maintenance, under the guise of occupational therapy. The Coes denied the charges, defended the hospital practices and called the investigation "rude, uncivil and insulting." Ultimately, no criminal charges were filed and Morningside was fully reaccredited in 1957. By 1964, Morningside's reputation had recovered to the degree that it was featured in an Oregonian article about its success as an "open hospital." Under the open hospital model, patients were controlled through sedatives rather than lock and key.
The Alaskan Mental Health Enabling Act was passed in 1956 and Alaskan patients began being moved from Morningside to new facilities in their home state. The Coes attempted to reorient the hospital. In 1960 they announced that the "transfer of 210 patients from Morningside will enable the Portland psychiatric hospital to begin taking patients locally." The Oregonian reported "Hospital officials feel that Morningside's present facilities and rehabilitation programs geared to both mentally ill and mentally retarded can be adapted to private patients with a few changes." Morningside was never able to recover from the loss of Alaskan patients, however, and attempts by Henry Coe to find a buyer who would continue to use the facilities for medical purposes were unsuccessful.
In the summer of 1968, the last three patients were discharged and Morningside prepared to close its doors. The site was sold to Lenrich Associates, a New York based property developer, which, in partnership with Interstate Department Stores, redeveloped the land as Mall 205."
Sources: Mills, Amy C, A Cultural History of the Neighborhoods Along the I-205 Light Rail Project, 2007; Hawkins, William J. and William F. Willingham, Classic Houses of Portland, 1999; Sullivan, Ann, "Morningside Hospital Closes After 58 Years of Caring for Mentally Ill," Oregonian, June 30, 1968; various articles, Oregonian, 1920-1968; Sanitarium Company, Care of the Insane of the Territory of Alaska, 1925.
More Sources of Information