Among the few pictures of Morningside are a two taken at Christmas celebrations in the 1920s. The US Department of the Interior records included correspondence from Wayne Coe about the 1922 Morningside Hospital Christmas party and an accounting of the party and patient gift expenses.
These two photos, which are from the Oregon Historical Society, were not dated but appear to be from the 1920s.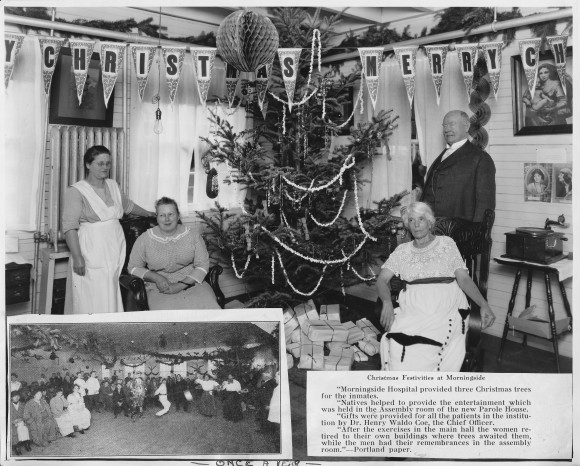 The caption on the photo above is an account of the Christmas Festivities at Morningside from a Portland newspaper. "Morningside Hospital provided three Christmas trees for the inmates. Natives helped to provide the entertainment which was held in the Assembly room of the new Parole House. Gifts were provided for all the patients in the institution by Dr. Coe, the Chief Officer. After the exercises in the main hall the women retired to their own buildings where trees awaited them, while the men had their remembrances in the assembly room."
The founder of Morningside Hospital, Dr. Henry Waldo Coe, is standing to the right of the Christmas tree.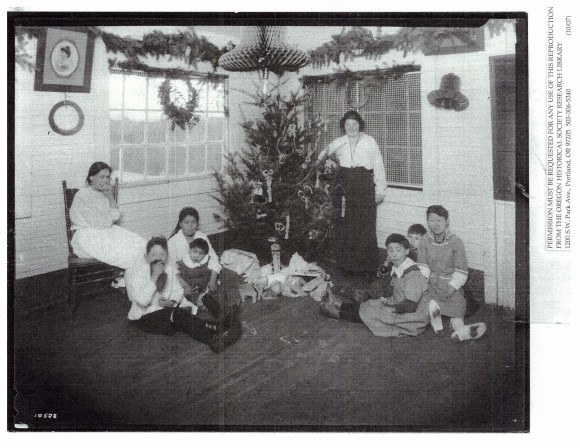 The photo above appears to be from the early to mid-1920s. Children were first admitted to Morningside at the end of 1922 or early 1923.
The "Program of Entertainment" for the 1922 Christmas Party included:
Overture by the Orchestra
Song by Mrs. Larsen, Mr. Thomas, Mr. Carter
Address by Mr. Henry Ray
Jig and Monologue by Mr. Nathan Swarthout
Vocal Solo by Mr. Carter, Supported by the Orchestra
A Response by Mr. Wayne W. Coe, Speaking for the Management
A Waltz – Men Employees Dancing with Women Patients and Men Patients Dancing with Women Patients
A March by the Orchestra while participants and other file out
Distribution of Presents to Men at Main Building
Distribution of Presents to Women Patients and Employees at the Women's Cottage
Mr. Earl Dowd Acting as Santa Claus
The menu for the Christmas Dinner was:
Oyster Stew
Celery and Olives
Roast Turkey and Dressing
Mashed Potatoes
Baked Sweet Potatoes
Hot Rolls
Cranberry Jelly
Mince Pie – Fruit cake
Coffee, Tea, Milk
Oranges, Apples, Nuts and Candy