Gold was discovered in Nome in 1898. The city was incorporated in 1901 and grew to an estimated 20,000 over the next 10 years, making it the most populous city in the Alaska Territory.  Only a few of the thousands of miners who came to Nome to seek their fortunes succeeded. Today Nome has fewer than 4,000 residents and serves as the regional service center for the Seward Peninsula.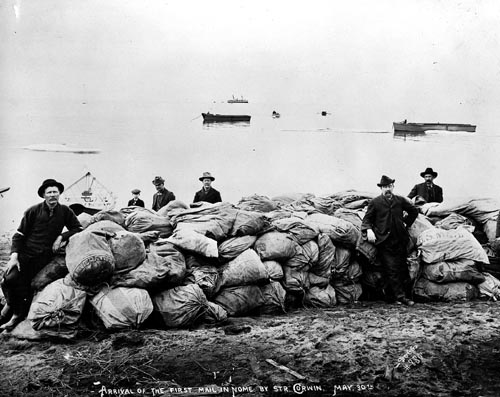 Niesje Steinkruger was in Nome earlier this month and dug deeper into the court records. There are six probate docket books there and she went through them all. Meg Greene went through two of the docket books on an earlier trip to Nome.  Niesje copied the names, court case numbers and the dates each case began. Many of the defendants went to Morningside, some had their charges dismissed, and some were found not guilty.  In Nome they were charged with being "insane and at large". She found 182 cases between 1901 and statehood.
The earliest records had Guardianships and Insane in the title.  The earliest record was from June 22, 1901, and the defendent was committed to the State Asylum at Steilacoom, Washington. Between 1901 and 1923 the court documents appear to have been recorded, like deeds.While in Nome, Niesje recruited a volunteer, Debbie Redburn, who offered to copy pages Niesje marked in the docket books. Niesje noted that this is a big job.  The books are approximately 24 inches by 14 inches, so Debbie will have to manhandle them, and somehow reduce the size of the pages to make copies.
The images on this page are from the Photo Archives of the Alaska State Library.