My last post was about citizens being hired by the U.S. Marshall to take patients from Alaska to Oregon. The article below details one of the more exciting trips. Patient Jennie Zimmerman was 49 and from Fairbanks. She was admitted to Morningside Hospital on March 2, 1919. Her diagnosis on admission was, "Paretic, noisy and destructive. P.c. poor." She remained at Morningside for more than 20 years, dying on January 18, 1941. Her two daughters, who were living in Portland, were notified.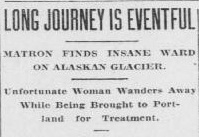 From the Morning Oregonian: The sole custodian of an insane woman, whom she was taking from Fairbanks, Alaska to Morningside asylum, in this city, Miss Lillian D. Hill of Fairbanks recently arrived here safely with her charge, after a terrible experience on the way, when the woman, Mrs. F. C. Zimmerman, escaped from her and made her way at midnight to an Alaskan glacier. Miss Hill, her task completed, is now on her way back to Fairbanks.
Miss Hill was engaged as a "matron" by the United States Marshall in Fairbanks despite her slight build and the 160 pounds of the patient. The trip of 400 miles over the trail from Fairbanks is trying for a man acclimated to the country, but for a woman in charge of an insane person, the trip proved to be a thriller, according to Miss Hill.
It was at the Rapids Roadhouse, half way between Tanana valley, of which Fairbanks is the center, and the coast, that the patient decided to wander out into the night. Her absence was discovered shortly afterwards by Miss Hill who followed her tracks in the snow. Neither of the women were clothed other than their night garments. Miss Hill, running from the roadhouse in terror that Mrs. Zimmerman would become lost, did not stop to don so much as a cloak. She found Mrs. Zimmerman after a search lasting three-quarters of an hour on the glacier.
"I didn't dare leave the women," said Miss Hill, "for if I went back for assistance I was afraid she might perish. For a few minutes I didn't know what to do. If we stood still we would freeze to death and if we stayed out we might die of exposure. There was no telling how long whim would keep my patient from refusing to return.
"Finally, I succeeded in inducing her to walk back and forth on the glacier for three-quarters of an hour, until she became exhausted and was willing to return to the roadhouse."
The remainder of the trip was made without incident.